IN LIVE STREAMING WE TRUST

What are the pros and cons of live streaming?

Broadcast yourself live

When big platforms, such as Facebook, Twitter, Youtube (and lately, also Linkedin), launched live streaming, they tried to sell it to us as the next "thing" in digital communications.
They did not expect that all sort of people would have started launching long, shaky, and boring monologues, with horrible sound and meaningless content.
That's the downsize of mass technologies: users take over and you cannot predict what they will do with it.
For us, it is important to regard live streaming as a technology that can easily boast the qualities of both TV and mobile technologies.
Keep it simple.
Keep it engaging.
Keep it entertaining.

Our recipe for quality live streaming consists of building entertainment in collaboration with the viewers.
The reason is simple: nobody knows what fuels your audience's attention better than your audience!
We do that, first of all, by taking meticulous care of the technical part: we use a DJI Osmo Mobile stabiliser to ensure a smooth vision and microphones to guarantee a seamless sound experience.
We take care of the social media strategy, because no broadcast is successful without a mindful approach to the channel in use.
Last, but not least, we provide you with a moderator, who can stand in front of the camera and makes sure that both the online and the offline audience are in tune with the show.

BREXIT PARTY

live from Molenbeek
Join us in giving our British friends a proper farewell.
This love & hate relationship is coming to an end, our friendship does not have to.

We will have gin tonic and a Brexit quiz:
God save the smart revolution!

DIGITAL DEMOCRACY DAY 2017-2018
How did we manage to provide our client ECAS with more than 7.000 organic views and a media outreach of more than 15.000 users?
Forget about target advertising, click fraud, and all that waste of resources: with our video strategies your communication budget will turn from a cost into a useful investment.
live from New York City:
find out the implications and actual meaning of Warhol's 15 minutes of celebrity during a one-week non-stop streaming. 
Live from the city that never sleeps.
A weekly infotainment show to help people endure quarantine during the covid-19 lockdown.
Ranging from satire to political briefings from the heart of Europe, the show is the first multi-camera production by Smart Videos and shows the whole potential of the SMART revolution.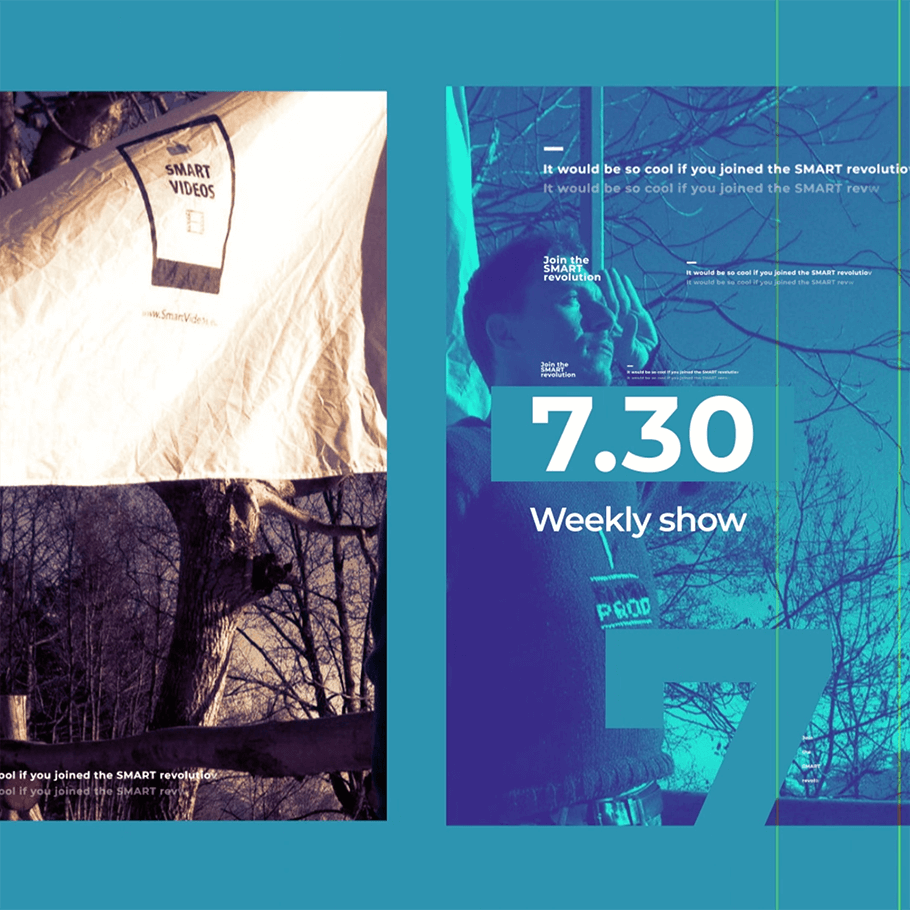 More than live.
Live streaming is not about placing a camera in front of a speaker and let users figure out what is going on down there.
It is important to nurture the event with a consistent digital strategy, composed of exciting anticipations, such as a trailer, a tailored visual identity and a full dedication to any social network interaction.
If you wonder how live streaming works and whether a Facebook live is better than using Periscope, here is what you can do: l
et Smart Videos take care of the entire process, from preparation to streaming, from the hosting to the follow up.
We can execute pretty much any step of the show using a smartphone only.
Broadcast with us

Join the SMART revolution